One of my friends is from Turkey and when I had the Amber jewelry party a few weeks ago at my house, she came over and brought some WONDERFUL cookies over!  I fell love with the cookies and so did my kids.  Well before she even left I had to get the recipe from her for Turkish Sesame Cookies!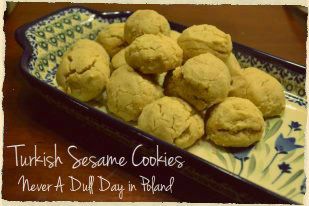 Then for New Year's we had a dinner guest visiting from Istanbul, Turkey and so to help him feel welcome I knew I had to make this for him!
What is so special about these cookies?  Well, first they are the easiest cookies I think I have ever made. Second, they melt in our mouth and kind of like caramel. Lastly you could kind of say they are half way healthy for you with the sesame seed paste, as sesame seeds are high in protein.  Ok, I am not sure if you can really say that but our dinner guest is a professional basketball player and if he says their healthy then they must be right?
Well enough talking let's start baking!!
Here is what you need: 1 cup powder sugar, 1 cup vegetable oil, 1 cup sesame seed paste (tahin), 4 cups flour. That's it!! How easy is this?
 If you don't have sesame seed paste at your grocery store, it is SUPER easy to make yourself.
Usually when I get a new recipe before I write it down in my family cookbook, I have make a few times to make it is a keeper, well this one instantly went in the cookbook.
I hope you enjoy this recipe as much we did!
What is your favorite cookie?  Mine, it is a tie between chocolate chip and peanut butter blossoms.